Massage Therapy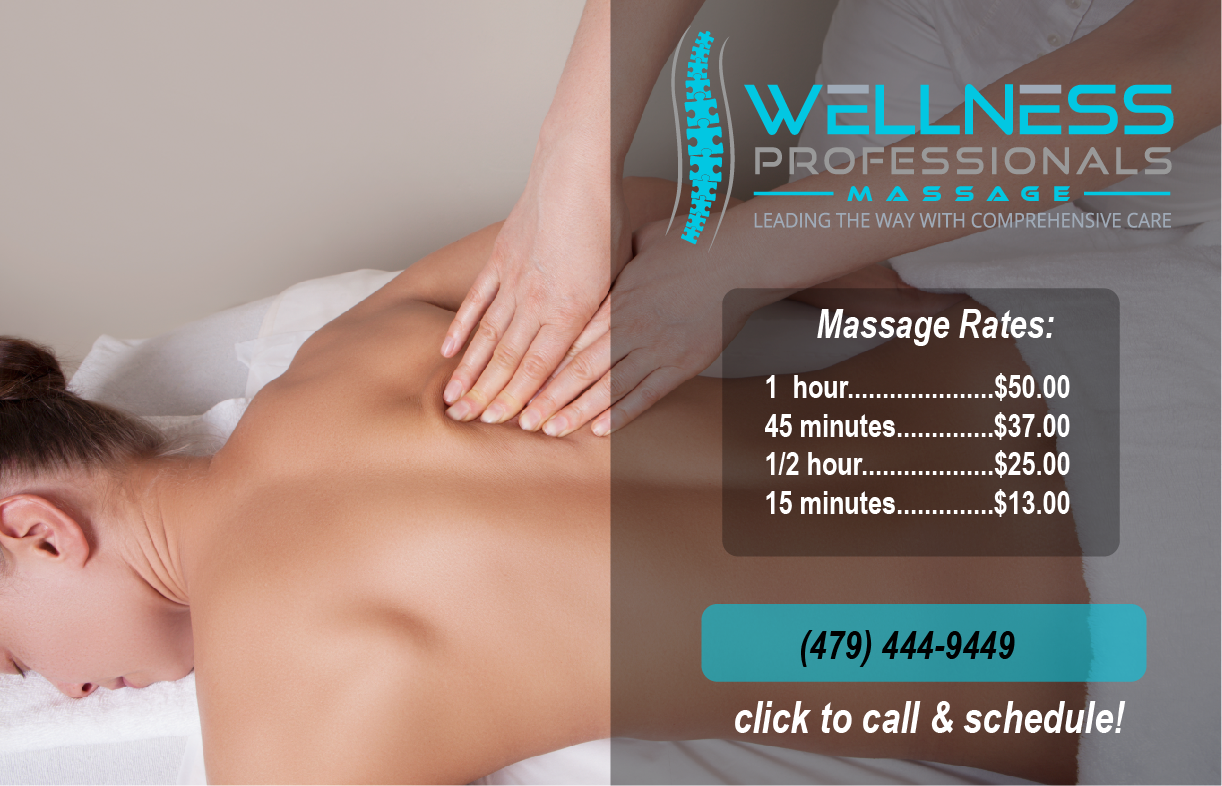 I had my first massage a Wellness Professionals, Inc. I am definitely going back for another, it was wonderful. K.G.

Everyone is so nice. It's the first time I have been to a Chiropractor that has in-house physical therapy and therapeutic massage. A.H.

Awesome people and I feel better since I have been going to them. Would recommend them to anyone S.R.
Why Choose Wellness Professionals?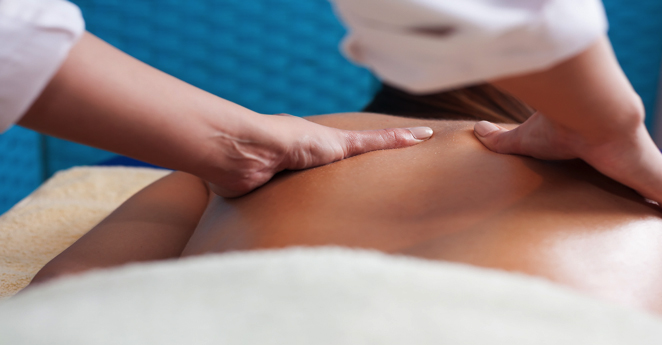 Wellness Professional would love to help you with your healthcare needs! Call today to book your massage!
1 hour rate: $50
---
HOW ARE WE DIFFERENT?
We offer specialized treatment tailored to your needs, our focus is always on the patient experience. Whether you are looking for a simple relaxing massage or treatment for an ongoing condition we can help.
Wellness Professionals is a multi-award-winning clinic rated at 5 stars. We pride ourselves in having a professional and knowledgeable staff always ready to help you with your needs.
WHAT IS MASSAGE THERAPY?
Massage therapy is manual manipulation of soft body tissues (muscle, connective tissue, tendons and ligaments) to enhance a person's health and well-being.
There are many of types of massages one can get. Massage Therapy is both a science and an art and has many benefits it can provide for you.
Our massage therapist focuses on the cause of your symptoms and pain, in order to provide lasting relief of your symptoms. Our Massage Therapist likes to focus on trigger point therapy and finding the cause of the injury facia tension.
Our Massage Therapist is trained in Deep Tissue, Swedish, Trigger Point, Hawaiian Lomi Lomi, and Prenatal massage.
2 MAIN TYPES OF MASSAGE THERAPY
People seek massage therapy for many reasons to reduce stress and anxiety, relax muscles, rehabilitate injuries, reduce pain, and promote overall health and wellness.
Rehabilitative massage – also known as deep tissue, medical, therapeutic or clinical massage; practiced in many settings like clinics, hospitals and chiropractic offices
Relaxation massage - also known as Swedish massage; practiced in settings like spas, wellness centers and resorts
PROVEN BENEFITS
There are many proven benefits to massage therapy listed below are just a few of the benefits you can expect to gain. (Information provided by the MAYO clinic)
Anxiety
Digestive disorders
Fibromyalgia
Headaches
Insomnia related to stress
Myofascial pain syndrome
Soft tissue strains or injuries
Sports injuries
Temporomandibular joint pain (TMJ)
FAQ
Is massage therapy good for everyone?: While massage is beneficial for most people, there are some people who cannot get massage. If you are concerned about getting a massage talk with our massage therapist, she will be happy to put you at ease.
What should I tell the Therapist?: Health issues such as cancer, pregnancy, high blood pressure, areas that you want to avoid, areas of infection or skin conditions should all be noted before the massage. It is good to have goals when it comes to any medical treatment that you receive. Discuss these goals with your Massage Therapist.
How often should I get a massage?: Your massage therapist will set up and individualized plan of treatment and will recommend how often you should come in. A good rule of thumb is at least once a month for good maintenance care.
What is the education of the Massage Therapist?: Along with getting their licence and initial education they will also keep up on their continuing education. Our massage therapist loves to learn and is always adding new techniques to her medical arsenal.
Do I have to undress? Modesty is a concern for many patients. Rest assured that you will be comfortable in our professional atmosphere. You will be provided a private room where you can undress to your comfort level. Proper sheets, blankets and drapery will be used at all times.
Most Insurances Accepted