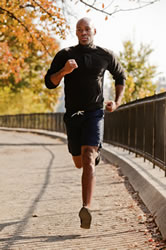 Along with Fall time comes beautiful weather and bright colors. It is time to get out and enjoy the great outdoors with family and friends! Fall is the perfect time of year for many outdoor hobbies that may include a lot of strenuous activities. Some hobbies may vary from hiking, to bike riding, or even something as simple as jumping in the leaves with the kids! All of these things are great fun! But with any activity also presents possibility of injury whether it be minor or extreme.
There are many tips for being safe and preventing, or even avoiding any injury that may put a damper on your Fall season! Before being too active, you should always remember to warm up first. This gives the muscles a chance to loosen up a bit to avoid any injury from stretching too quickly. Being aware of your surroundings is very important also! No matter what the activity may include, always be aware of what is going on around you. Accidents that cause injury often happen from the lack of awareness of other things that may be going on.
If you do happen to get injured in the midst of your Fall fun, we offer several different services here at Wellness Professionals! Whether it may be Chiropractic, Physical Therapy, Massage Therapy, or even Speech Therapy, we offer them all! We also do different types of traction and electrical stimulation along with ultrasound. Seeing you in pain is not what we look forward to. Helping you through the pain or discomfort is what we do here at Wellness Professionals.